Following the path of servant hood led him to later become an evangelist with a profound teaching ministry on the Tabernacle.  Traveling from city to city and many states, Bishop Mosby expounded on the tabernacle and brought the old testament to life through a portable model fully furnished to the exact specifications as the original model in the word of God.  This profound teaching served as a catalyst for his ministry which brought deliverance and miracles as people received the word of God with anticipation, and a new found awareness of the Most High God.

It wouldn't be long that his evangelistic ministry would soon evolve into a pastorate.  In 1986 God's Church of Deliverance was founded on the same principles of deliverance that was exemplified in his ministry as an evangelist.  As a pastor, Bishop Mosby continued to work the dynamics of outreach in his community by developing a consistent prison ministry for both men and women, and a ministry to feed and clothe the poor and minister to the homeless.  God favored him to partner with the local police department and work closely with authorities to bring guidance through community service efforts to first time offenders. 

So much can be said to the glory of God about this man of compassion.  His is an ordained Apostle, Bishop, Pastor, Evangelist an intercessor, a worshipper, a father to many and has given much for the sake of the gospel.  Bishop Mosby is the overseer of seven churches and founder of seven schools in Haiti.  He has provided education to students in Haiti to receive their doctorates so that they may help their local communities.

For his acts of humanitarianism and years of service, Bishop Milton Mosby received a Doctorate of Divinity (D.D.) in 2004.  He is adored by his loving wife of 44 years of marriage, Pastor Mattie Mosby, and his five children, six grandchildren and three great grands.  He is God's servant: Delivered to deliver.

Bishop Dr. Milton Mosby, Senior Pastor

Pastor Mattie Mosby, Co- Pastor

Born in New York, but raised in South Carolina, Bishop Milton H. Mosby's testimony bears resemblance to the age old story of the baby Moses saved from exile by a floating basket in the Nile.

Perhaps it can be said that his "basket" was the care of a loving grandmother who raised him apart from his other seven siblings.  Although the separation from his immediate family left questions and undoubtedly some hurt for this young child, it would be evident later that God's hand was on this man of God who would later be used to bring deliverance to many through his ministry of compassion.

Bishop Milton Mosby began his ministry serving in the local church as a youth Sunday School teacher, using practical lessons to minister Christ and exemplify servant hood to the young men and women under his tutelage.  Some of those lessons included preparing food baskets to feed the poor; sharing the gospel door to door in high risk neighborhoods and managing an apple orchard.

Church History

In June 1986, Sister Mattie Mosby was asked to be a guest teacher at a Thursday night Bible study held at the home of Sister Verdia Davis. The Bible study attendees were so moved by the words of Sister Mosby that the following month they invited her husband, Evangelist Milton Mosby, to come teach the group as well. It was during his reoccurring teachings that he answered the call of God into the Pastoral ministry.  The name for this Church that Evangelist Mosby had heard from God was "God's Church of Deliverance."

Those in the Bible study group were elated and ecstatic over God's calling on Evangelist Mosby's life to Pastor. Having become God's Church of Deliverance, we held our first Sunday morning service at the home of Sister Verdia Davis on August 10, 1986. The fame of this newly established Church grew so rapidly, that by the second Sunday morning service we had already out grown Sister Davis' living room.

To accommodate this growing church we moved to the Bethlehem Community Center to hold our Sunday morning service. However, by November 1, 1986, Pastor Mosby moved to Holiday Inn for Sunday mornings, while Sunday and Thursday night services were held at the home of Brother Larry & Sister Alice R. Tucker. This arrangement continued until September 1987 when it was brought to Pastor Mosby's attention that a little white building at 5545 Shakespeare Road was soon to be available. As soon as the building was vacated we seized the opportunity to rent it. This allowed us to host all of our Church services in one location.

God showed Pastor Mosby land to construct a building for worship. In 1988 we purchased the land at 3950 Clement Road and were blessed by God to pay it off in three installments. Being few in number, much like the army of Gideon, and truly giving God the Glory and Praise, we celebrated paying off the land on Sunday April 22, 1990. By this time, God had already given Pastor Mosby ideas of how the church was to be designed. With much hard work and determination on the part of Pastor Mosby, our next milestone accomplishment came later in 1990 when the land was cleared and the foundation was poured.

Although, it seemed that many doors were being shut for us and we watched as grass began to grow up around our foundation, God proved His faithfulness to His word, His will and the vision that He'd given His servant and chosen people. We moved into our new church building on Sunday, October 6. 1996.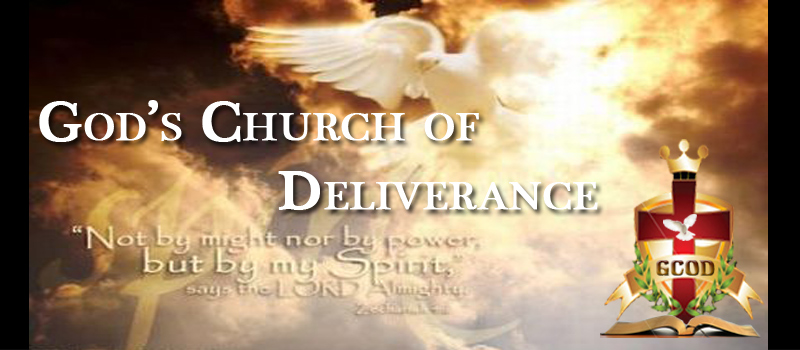 GCOD © 2010   Web Designed by: Inhaling Life Designs